If you're looking for some bona fide, high-quality barbecue, then Smoke's Smoke House BBQ is the spot for you. This BBQ joint is conveniently located on Route 40 in Glasgow, Delaware, in a small trailer in the middle of Pulaski Highway.  A family favorite and a hidden gem, Smoke's has been a hot spot for locals and has gained a great reputation among Delawareans.
What sets Smoke's Smoke House apart from some of the other BBQ spots in the area? Owner, Scott Smoke, has perfected the art of barbecue as he only uses quality meats, and goes the extra mile in smoking each one with his signature approach. The smoking process is truly something of beauty, and yields results that any barbecue fan would love. He smokes his meat for 12-16 hours, transforming it into something that could only be described as melt-in-your-mouth goodness. This method of smoking allows for more flavorful, juicy meat.  Scott said another key to the quality of his food is that he doen't serve refrigerated leftovers.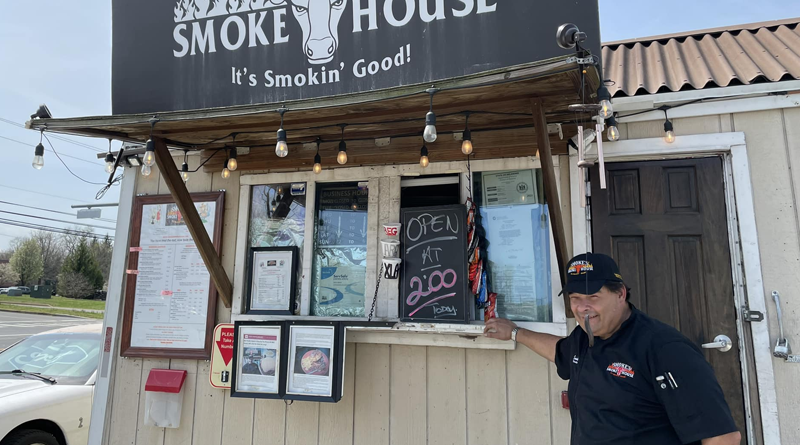 In addition to cooking quality barbecue, Scott Smoke is also backed by a team of friendly servers who always make it a point to welcome all customers with a warm smile. The variety of meats offered means that everyone can find something to enjoy, whether it's ribs, pulled pork, or brisket. Smoke's is usually open from Wednesday to Sunday, 7am to 6pm, and is closed on Mondays and Tuesdays, but never fails to serve up savory and delectable eats.
If you're ever in the area, Smoke's Smoke House BBQ is a must visit – Scott Smoke has put in the time and effort to make sure patrons get the best barbecue experience Delaware has to offer – one that you don't want to miss out on. So pull into Smoke's for a tasty treat, and be sure to come again for more.